Main content starts here, tab to start navigating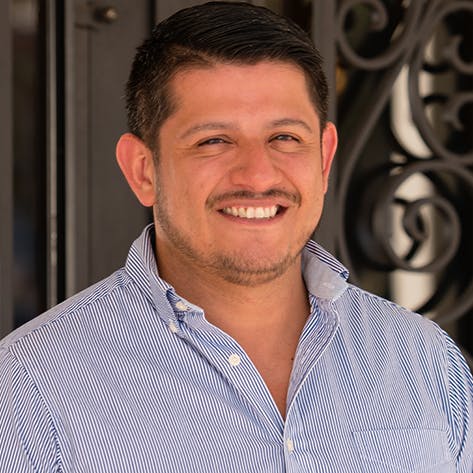 Dago Garcia
GENERAL MANAGER
At the age of 15, Dago took his first job, as a busser, on a busy Mother's Day shift at Western Sizzlin restaurant in Dumas, TX; where he instantly fell in love with the hospitality industry. Dago later decided to pursue my degree in Restaurant, Hotel, and Institutional Management from Texas Tech University. During his time in college Dago worked for Fired Up Inc., as a server, bartender, as the Unit Training Coordinator. He later became part of the opening team for the company, and having opened 7 new restaurant locations for Johnny Carino's. Traveling the country for the openings gave Dago the opportunity to work with all different types people who helped with build his style of management.

With the restaurant openings under his belt, it only affirmed how much Dago truly enjoyed being around people and the fast pace environment that restaurants provide. He has always heard that restaurants are a tough business to be in, what people don't tell you is how rewarding it is.

After obtaining his degree from Texas Tech University, Dago was recruited by J. Alexander's Corporation. He spent 3 years at the Houston, TX location, and then was transferred to Fort Lauderdale in August of 2000. After spending 5 years with J. Alexander's an opportunity arose for Dago to join the be nice Restaurant team as a manager at Coconuts and G&B Oyster Bar. Excited to be part of an organization that is passionate about food and providing the guest with a great dining experience, Dago started his journey with be nice Restaurants. Dago's strong leadership skills landed him another opportunity with be nice. After spending two years at Coconuts, Dago was promoted to General Manager of neighborhood restaurant Foxy Brown. Eager to start a new chapter with be nice, Dago with now lead the team at Brown Dog Eatery.

Dago says the thing most rewarding about his job his job are his interactions with the guests and the staff. He is very passionate about service and providing a memorable dining experience as well as the continued education of his staff. When Dago isn't at work you can find him checking out the local food scene, traveling, and spending time with his dogs. Cheers!